Josh's grandmother, Trudy Zeidman, has died following a short bout of illness. She was nearly 93 and had lived a full, long life, traveling the world many times and refusing to be bound by notions of what women or older people couldn't or shouldn't do. She was alert and sharp to the end, and determined to get better, even when she was very ill; a week ago J and I visited her (and Skyped in X and Kit, which I am tremendously glad we could do) and she insisted she was going to be at Kit's kindergarten graduation. She outlived two husbands and is survived by two children and their spouses, three grandchildren and their spouses, and four great-grandchildren, all of whom she adored passionately.
Trudy welcomed me into her family with open arms. Whenever I told her how lucky I was to have J, she retorted, "HE'S lucky to have YOU!" At our wedding, as soon as the ceremony was over, she heckled us until we kissed. She was boisterous and vigorous and opinionated. And she was always willing to change her mind in the direction of being more kind and open-hearted, whether that meant accepting that her daughter was marrying a Japanese man (a big deal to a Jewish woman who lived through WWII), accepting her children's gay friends, or accepting that her youngest great-grandchild was born out of wedlock. She was the life of the party at our baby shower, visited us after Kit was born, and said over and over again that Kit was fortunate to be so loved by so many people; we maintained the fiction of X being our "roommate", but we're pretty sure she knew what was up and didn't care at all as long as there was love and happiness. I'm so glad X and I got to know her a little, and got to introduce her to Kit.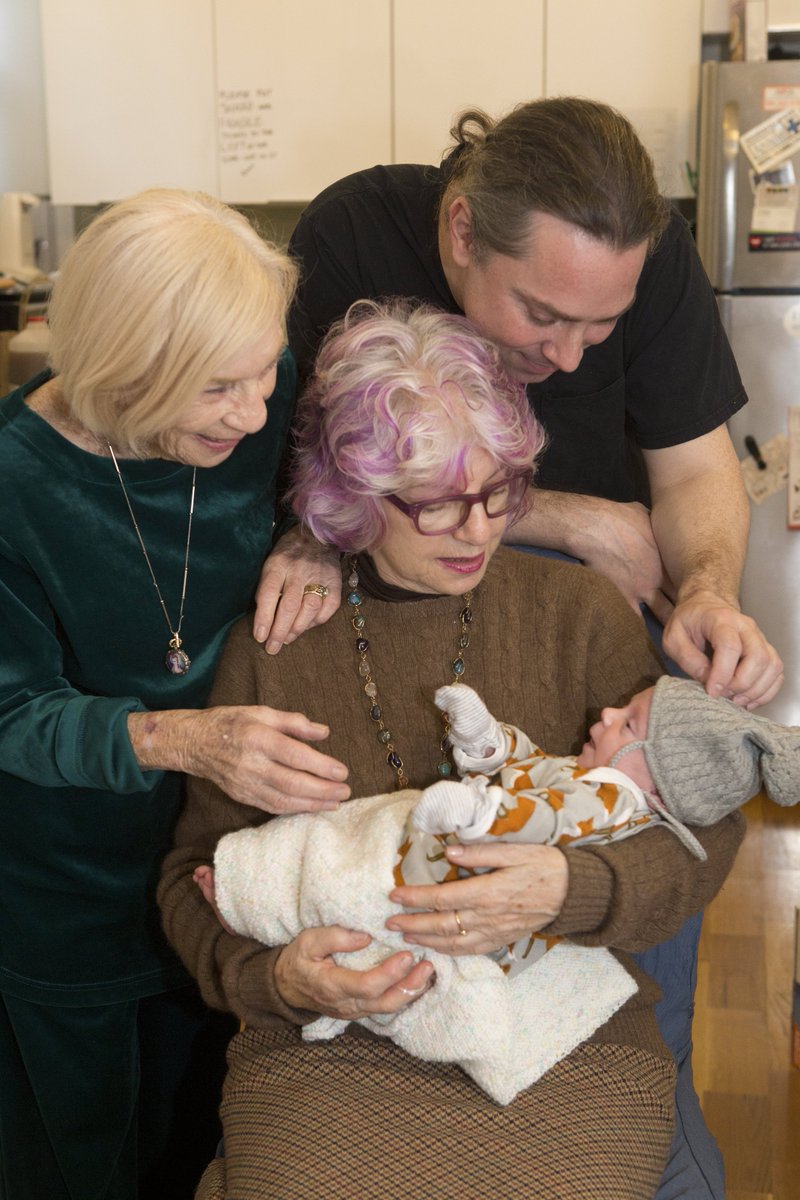 Four generations: Trudy, Glory, Josh, and Kit. Photo by Erika Kapin.
Rest in peace, Trudy. Thank you for all the laughs and love.